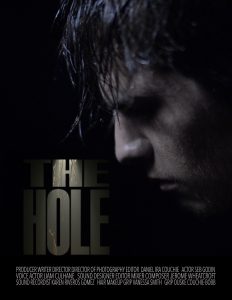 The Hole – A Short Film
by Daniel Ira Couchie
This is a short film about isolation, desperation, depression, anger, grief, despair, sadness and acceptance.
Running Time: 2 Minutes
Aspect Ratio: 1.77  /  Year: 2016
Daniel Ira Couchie: Producer, Writer, Director, Director of Photography, Editor
Karen Riveros Gomez: Sound Mixer
Jerome Wheatcroft: Score
Seb Godin: Actor
Ouske Couchie-Bobb: Grip
Biography: Daniel Ira Couchie
Daniel is a graduate of the Toronto School of Video and is currently in his 3rd and final year of the Canadore College Digital Cinematography Program. He has worked on 30+ student films in a variety of capacities including: Producer, Director, Editor, Director of Photography, Sound Recordist, Grip, Gaffer, 1st AC, 2nd AC, etc. Daniel is currently Producing a major student film project in his final year at Canadore College. Three student film projects that Daniel has Produced, Directed and Edited have been featured at 10 different Film Festivals throughout North America with one selection as a semi-finalist. He plans to continue to Produce, Write, Direct and Edit after graduating from college.