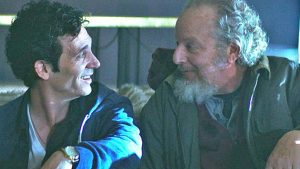 For National Canadian Film Day, my gut reaction was to play it safe and choose a film I was familiar with. But as I went through the 2021 Spotlight Films, I realized that I had only seen a handful of these films before and that this was a great opportunity for me to see something new. James vs His Future Self jumped out at me for a few different reasons. I've always been a fan of sci-fi, and when I found out that this movie was filmed in Sudbury (about an hour away from where I live) I was excited to see if I could spot any locations I'd been before. This movie is also fundamentally about finding a healthy work-life balance, something a lot of us are searching for, while being a love story to boot! James vs His Future Self looks like a quirky, fun, and endearing film, and I can't wait to watch it with you all on April 21!
James vs. His Future Self
2019 ‧ Sci-fi/Comedy ‧ 1h 34m
Director: Jeremy Lalonde
A brilliant scientist on the brink of inventing time-travel is halted when his unhinged future self begins to demand that he stops.
Getting your free ticket to watch these films is easy. Just go to the National Canadian Film Day website and sign up to get free tickets: https://canadianfilmday.ca/wawasayg-festival/
Tara Windatt is an artist, writer, and arts administrator of settler and Indigenous ancestry from Northern Ontario with a Liberal Arts degree with concentrations in fine art and history from Nipissing University. She is a member of the distance between us arts collective (www.distancebetweenus.com), and her practice includes installation, performance, poetry, media arts, visual arts, photography, and craft. With over a decade of experience in the not-for-profit arts sector, Tara has worked with a number of arts organizations including the White Water Gallery, the Indigenous Curatorial Collective, Jumblies Theatre, Zakide, the Future in Safe Hands Collective, the ON THE EDGE Fringe Festival, and Aanmitaagzi Story Makers. Specializing in non-profit bookkeeping, grant writing, database management, website development and communications, she is also a consultant with Win Win Consulting, an arts-specific consulting firm she co-founded and operates with her partner, Clayton.