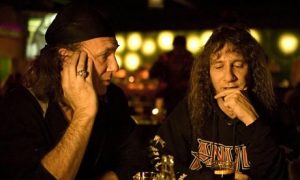 The Story of Anvil and what it represents, a film directed by Sacha Gervasi of a Toronto based band with long time founding members Steve "Lips" Kudlow and Rob Rienner created the band Anvil in 1978. The story that is Anvil is a story of hope, perseverance, struggle, and never giving on your dreams. This is a great film of all artists who are trying to make it in the arts community and wanting to make a career out of being an artist and believing in yourself and pushing one's self to do so. If you need inspiration this is the film to watch.
Anvil: The Story of Anvil
2008 ‧ Documentary/Rockumentary ‧ 1h 30m
Director: Sacha Gervasi
Canadian heavy-metal band Anvil delivered a highly influential 1982 album that would inspire the likes of Anthrax and Metallica, and then dropped off the map to begin what would become decades of toiling in obscurity. Director and former roadie Sacha Gervasi follows guitarist Steve "Lips" Kudlow and drummer Robb Reiner as they stumble through a harrowing European tour and reflect on failure, friendship, resilience and the will to follow even the most impossible of dreams.
Getting your free ticket to watch these films is easy. Just go to the National Canadian Film Day website and sign up to get free tickets: https://canadianfilmday.ca/wawasayg-festival/
Jacob (Anishinaabe/Ojibwe) is a multi-disciplinary artist and performer originally from Sheshegwaning First Nation on Manitoulin Island currently residing in North Bay and working on completing his Bachelor of Arts degree (Major Indigenous Studies, Minor Gender Equality and Social Justice) through Nipissing University. Jacob has achieved diplomas from Canadore College specializing in Media Arts – Radio Broadcasting and Television Production. Jacob is a self-taught musician working in his own personal time developing original guitar and lyrical pieces. He has worked in many areas of the arts and with many community organizations including the Indigenous Curatorial Collective, Aanmitaagzi Storymakers, Cultural Pluralism Arts Network of Ontario and with the Zakide Collective. Jacob is also actively involved with the continuation of the cultural traditions relative to his people such as traditional pow-wow dancing, singing, drumming and he enjoys attending ceremonies. Jacob utilizes both his personal life experience and educational background to lead by example for anyone seeking help and encouragement.