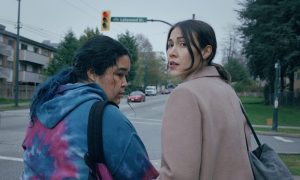 For National Canadian Film Day, I chose The Body Remembers When The World Broke Open. It's a beautiful, impactful piece of cinema everyone should see. It is technically masterful while being expertly directed by Elle-Máijá Tailfeathers and Kathleen Hepburn. We dive into an experience between two Indigenous women who intersect on a rainy afternoon in Vancouver. Based on Elle-Máijá Tailfeathers' real experience, The Body Remembers is full passion and conversation between two people at completely different points in their lives, dealing with completely different issues. Not only is it a reflection of the individuality of Indigenous people, but also the hardship and complicated feelings we as Indigenous people can have for each other. I am excited to watch it with you all on April 21st! Miigwetch!
The Body Remembers When The World Broke Open
2019 ‧ Drama ‧ 1h 45m
Directors: Elle-Maija Tailfeathers, Kathleen Hepburn
After a chance encounter on a busy street, a woman decides to bring a pregnant domestic abuse victim home and encourages her to seek help to navigate the aftermath of the traumatic event.
Getting your free ticket to watch these films is easy. Just go to the National Canadian Film Day website and sign up to get free tickets: https://canadianfilmday.ca/wawasayg-festival/
Cole Forrest is an Ojibwe filmmaker based in Toronto, Ontario. Originally from Nipissing First Nation, Cole strives for compassion and acceptance within the arts. Cole trained and honed his craft at the "Big Medicine Studio" while working with the group Aanmitaagzi. Cole has written and directed various independent short films that have been screened at film festivals including ImagineNATIVE, Toronto Queer Film Festival, and the Vancouver International Film Festival. Cole is a recipient of the Ken and Ann Watts Memorial Scholarship and of the James Bartleman Indigenous Youth Creative Writing Award. He is the 2019 recipient of the ImagineNATIVE + LIFT Film Mentorship, and a 2020 Artist in Residence as a part of the Sundance Native Filmmakers Lab. He is a graduate of the Video Design and Production program at George Brown College. Cole is currently developing his next short "Ozigwan". He is grateful to represent his community in all of his artistic pursuits.