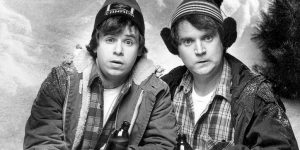 For anyone that grew up in Canada during the 1970's or 80's you know Bob and Doug McKenzie. These fictional beer drinking brothers from SCTV were played by Rick Moranis and Dave Thomas. Although these figures were designed as 2-dimensional stereotypes of what it meant to be "Canadian" they became a pop culture phenomenon perpetuating the stereotype more than mocking it. When I was 10 years old "Strange Brew" had such an influence on me and my younger brother that we often pretended to be the McKenzie brothers drinking mock beers and having adventures where we often told each other to "Take off eh!". Watching this film today through a critical lens offers a better understanding of the pathway of "Canadian" identity and how this country struggles with understanding its own concepts of nationalism. Also, Strange Brew is just really stupid and funny movie.
Strange Brew
1983 ‧ Comedy/Satire ‧ 1h 30m
Directors: Rick Moranis, Dave Thomas
Bob and Doug Mackenzie are two brothers who help Pam to regain the control of her recently deceased father's brewery from an evil and conniving relative.
Getting your free ticket to watch these films is easy. Just go to the National Canadian Film Day website and sign up to get free tickets: https://canadianfilmday.ca/wawasayg-festival/
Clayton Windatt is a curator, multi-arts performer and filmmaker living and working in Ontario. As the former Executive Director of the White Water Gallery, Aboriginal Curatorial Collective and current Executive Director of the Artist-Run Centres and Collectives Conference, Clayton has an extensive history working in Artist-Run Culture and Community Arts. Clayton maintains contracts with various governments, colleges and non-government organizations as a writer, consultant and knowledge broker negotiating between peoples, places and communities. Clayton works in/with community, design, communications, curation, performance, theatre, technology, and consulting, and is a very active artist.