This summer, ON THE EDGE fringe is once again teaming up with Zakide to present its Duality-Firestarter multi-arts incubator across distances, focusing on individual development and collaboration through digital environments. As Zakide's contribution to this year's presentations during the ON THE EDGE Fringe Festival, we are programming digital offerings of both new and existing works into a showcase that features a different digital offering each night. This year's participating artists include Craig Berggold, Dakota Camacho, George Elliott Clarke, Cole Forrest, Ayumi Goto, ee portal and Peter Morin. Please find the schedule of presentations on the ON THE EDGE website:
Artists Rights – Craig Berggold & George Elliot Clarke, Programmed by Clayton Windatt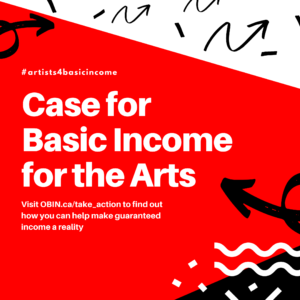 Working within the movement towards a Guaranteed Basic Income in Canada, I have had the privilege to meet and speak with many people including Craig Berggold and George Elliot Clarke. I wanted to program these two artists back to back as a way of making connections between the long-standing activism in the art sector and the work being done today. Craig helped me in authoring and editing a letter currently addressed to the Prime Minister of Canada demanding changes that will impact all our lives when basic income becomes something that every human being living in Canada receives. Craig's media-based multi-arts piece from 1988, Up to Scratch, embraces an energy from that time period where people were coming together to support each other and push for higher levels of equity. George read his poem, Basic Income, at one of our recent meetings, bringing forward a summary of emotions and actions calling on us to unite. I feel that the energy of the past 30+ years coming together in new ways and wanted to share these two works with you all. – Clayton Windatt
If you are interested in supporting the movement towards a Universal Basic Income for all people in Canada, please visit this website and consider writing your local MP & MPP to discuss the importance of this issue.
PETITION
| | |
| --- | --- |
| | Last July 16th, artists, writers, technicians and performers called on Prime Minister Trudeau to create a permanent basic income guarantee. |
MP LETTER TEMPLATES
| | |
| --- | --- |
| | Causes event in Toronto, ON, Canada by Basic Income March Toronto on Saturday, September 19 2020 with 173 people interested and 33 people going. 9 posts… |
Drive-by Performance Art – Peter Morin & Ayumi Goto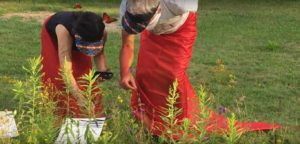 Peter Morin and Ayumi Goto are best friends and performance artists. They sing together. They laugh together. They cry together. They debate ideas and plan for the destruction of the European colonization of Canada. Morin and Goto have exhibited throughout Canada and internationally. They also like to jump.
rubbings – ee portal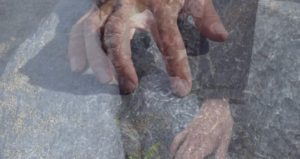 By focusing on the intense and subtle experiences of hearing, seeing, touching – sensing – we acknowledge that we embody the vast and often unfathomable material, metabolic and poetic exchanges that happen in every moment of our lives, and that these exchanges take place in a commons (even from our lockdown enclosures). We, ourselves, are a commons. It is only through the other that we are able to think, dream, write, talk, be creative and make art. This automatic, intuitive and poetic impulse to express ourselves is paradoxically part of our individuality, but only possible through the other. rubbings is part of a larger body of research: eeportal.art/plant-goddesses-agrilogistic-climate-crisis-nonhuman-solidarity. In our work, we look at the potential for multidisciplinary art to generate restorative actions, land poetry, and communal pondering. We consider restorative actions in art as bringing about some type of remembering of ignored, forgotten, discarded or erased entities, objects, events, qualities or essences. Materials for land poetry come from images, sounds, words or objects whose source can be quite paradoxical: is it coming from me, or that flowering plant? Communal pondering is a type of inner revolt to the status quo, especially the ideology that sees the Earth and all its inhabitants as some sort of human playground for industrial extraction, what Timothy Morton has coined as agrilogistics – a 12,000 year old anthropocentric ideology, which emerged with the on-set of agriculture and religion. Communal pondering is the desire to rebuild an honest exchange or transmission not only with humans, but also with the entire biosphere – the symbiotic real.
i Linalai Fáfa'ulos – Dakota Camacho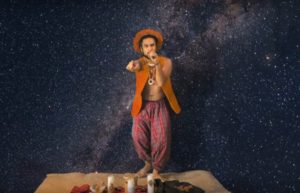 A navigators song, a love song to territories, peoples, cultures, and an expression of the sanctity of oral traditions, Dakota Camacho presents within, performance manifests as language, movement and lyrics of peace and self-determination. As a continuation of Camacho's research project MALI'E, "i Linalai Fáfa'ulos" (the navigators song) explores ethical movement between and with territories of culture, geography, and time.
Recent Works – Cole Forrest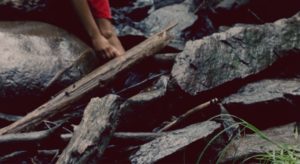 Cole is presenting two of his recent film works, Into Water and Queenie, for this year's Duality-Firestarter.
Biographies in Alphabetical order:
Media artist Craig Berggold strives to combine social justice activism with a contemporary art practice. His award-winning films, like the National Film Board of Canada documentary Pocket Desert: confessions of a snake killer and Educate Your Attitude, have been broadcast on television and screened at film festivals, museums and art galleries around the world. Craig is the lead researcher at The Canadian Farmworkers Union Archive Project at Simon Fraser University's Special Collections Library. His photography and writings include: "The Colour of Food" a historical photo essay of South Asian women farm workers and their union organizing; and, the economic apartheid of Canada's Seasonal Agricultural Workers Program "Canada: Mexico found guilty of blacklisting pro-union migrant workers". Currently, Craig is a PhD candidate in Cultural Studies at Queen's University, Kingston, Ontario, where he received a 2016 SSHRC Doctoral Canadian Graduate Scholarship and a Douglas Sheppard Wilson Fellowship in Film. As a Teaching Fellow in the Film and Media Studies Department he has taught on Film and Politics, Science Fiction and Visionary Social Models, and Media and Cultural Studies. At Queen's, he was President (2014-19) of Public Service Alliance of Canada (PSAC) Local 901 representing 1800+ academic workers. He was honoured to receive the 2017 PSAC-Ontario Activist Award for Outstanding Contribution Protecting Workers' Rights. For ten years, at Vancouver's Emily Carr University of Art + Design, Craig taught 30+ courses on video art, film production and experimental documentary practices. Craig is a co-founder and former Festival Director of Vancouver MayWorks Festival of Working People and the Arts. https://www.facebook.com/craig.berggold
Dakota Camacho is a multi-disciplinary artist / researcher working in spaces of indigenous life ways, performance, musical composition, community engagement, and education. Camacho holds a Masters of Arts in Performance Studies from Tisch School of the Arts at New York University, and graduated from the University of Wisconsin-Madison with a Bachelor of Arts in Gender & Women's Studies as a First Wave Urban Arts and Hip Hop Scholar. Camacho is a chanter, adjunct instructor, and core researcher for I Fanlalai'an Oral History Project based at the University of Guåhan. Camacho co-founded I Moving Lab, an inter-national, inter-cultural, inter-tribal, and inter-disciplinary arts collective that creates community and self-funded arts initiatives to engage and bring together rural & urban communities, Universities, Museums, & performing arts institutions. Camacho has worked at festivals, universities, and community organizations as a public speaker, facilitator, composer and performer across Turtle Island (USA), Aotearoa (New Zealand), Australia, Sweden, and South Africa.
The 4th Poet Laureate of Toronto (2012-15) and the 7th Parliamentary/Canadian Poet Laureate (2016-17), George Elliott Clarke was born in Windsor, Nova Scotia, in 1960. Educated at the University of Waterloo, Dalhousie University, and Queen's University, Clarke is also a pioneering scholar of African-Canadian literature, with two major tomes to his credit: Odysseys Home: Mapping African-Canadian Literature(2002) and Directions Home: Approaches to African-Canadian Literature (2012) . A professor of English at the University of Toronto, Clarke has taught at Duke, McGill, the University of British Columbia, and Harvard. He holds eight honorary doctorates, plus appointments to the Order of Nova Scotia and the Order of Canada at the rank of Officer. He is also a Fellow of the Royal Canadian Geographical Society. His recognitions include the Pierre Elliott Trudeau Fellows Prize, the Governor-General's Award for Poetry, the National Magazine Gold Award for Poetry, the Premiul Poesis (Romania), the Dartmouth Book Award for Fiction, the Eric Hoffer Book Award for Poetry (US), and the Dr. Martin Luther King Jr. Achievement Award. His books are available in Chinese, Romanian, and Italian. www.georgeelliottclarke.net
Cole Forrest is an Ojibwe filmmaker based in Toronto, Ontario. Originally from Nipissing First Nation, Cole strives for compassion and acceptance within the arts. Cole trained and honed his craft at Big Medicine Studio while working with Aanmitaagzi. Cole has written and directed various independent short films that have been screened at film festivals including ImagineNATIVE and Toronto Queer Film Festival. Cole is a recipient of the Ken and Ann Watts Memorial Scholarship and of the James Bartleman Indigenous Youth Creative Writing Award. He is the 2019 recipient of the ImagineNATIVE + LIFT Film Mentorship, and a 2020 Artist in Residence as a part of the Sundance Native Filmmakers Lab. He is a graduate of the Video Design and Production program at George Brown College. Cole is currently a Grants Assistant at the Toronto Arts Council. He is grateful to represent his community in all of his artistic pursuits.www.instagram.com/art.nish.boy/
Ayumi Goto (born in Surrey, BC, Canada; lives in Toronto, ON, Canada) is a performance apprentice, based in Toronto, traditional territories of the Haudenosaunee Confederacy, Huron-Wendat, Anishinaabe, and Mississaugas of the Credit First Nations. As diasporic-Japanese, she at times draws upon her cultural heritage and language to creatively reconsider sentiments surrounding national culturalism, migrations, activist strategies, and land-human relations. Ayumi has made performative interventions in London, Berlin, Kyoto, and across this land presently called Canada. Her practice is deeply influenced by Shirley Bear, Roy Miki, Cheryl L'Hirondelle, Adrian Stimson, and Peter Morin.
Peter Morin is a grandson of Tahltan ancestor artists. Morin's work highlights cross-ancestral collaboration and deeply considers the impact zones that occur between Indigenous ways of knowing and Western Settler Colonialism. Morin's practice has spanned twenty years so far, with exhibitions in London, Berlin, Singapore, New Zealand, and Greenland, as well as across Canada and the United States. Morin currently holds a tenured appointment in the Faculty of Arts at the Ontario College of Art and Design University in Toronto.
In 2011, ee portal (Elyse & Emilio Portal) initiated their collaboration with the multidisciplinary work, advanced life support unit, at the University of Victoria. As part of the installation the duo deconstructed the space, removing the gallery door to project shadow, a video that documents the movements of a woman (and friend) who was told she would never move her body again after a severe spinal cord injury. In the face of great adversity, she slowly regained access to her body through a movement therapy based on physics and somatic studies, called Feldenkrais. Founder, Moshe Feldenkrais said, "We move according to our perceived self-image." As numerous life supporting structures now face ecological paralysis, what does it take to adjust our collective self-images that consume so much of our planet? ee portal are continually motivated by the courage of this woman to recover her body – piece by piece, starting with the smallest movements. While Elyse and Emilio have their own independent ecological art practices, ee portal offers a third space to collectively exchange, stimulate, and coalesce diverse approaches and perspectives to issues that are massively intangible, such as the Anthropocene and the 6th Mass Extinction. https://eeportal.art/
Clayton Windatt is a Métis non–binary multi-artist living and working between Sturgeon Falls and Toronto, Ontario. Clayton holds a BA in Fine Art from Nipissing University and received Graphic Design certification from Canadore College. With an extensive history working in Artist-Run Culture and Community Arts, and through their own activism, Clayton works towards healthier relationships for national and global Indigenous artists and communities. The former Executive Director of the Aboriginal Curatorial Collective, Clayton maintains contracts with several colleges and universities, arts magazines, arts councils, arts organizations, and other organizations as a critical writer, columnist and consultant in addition to pursuing their independent arts practice. Clayton is an active filmmaker and director with works featured in festivals such as ImagineNative and the Toronto International Film Festival and recent commissions by the National Film Board of Canada. Clayton works in/with community, design, communications, curation, performance, theatre, technology, and consulting, and is a very active writer, filmmaker and visual-media artist and was recently appointed to the National Gallery of Canada's Board of Trustees.