Workshop: Interactions, Objects and Expression
Thursday & Friday Aug 15-16 / 10am – 3pm 
***workshop is now full***
ON THE EDGE Fringe Festival is pleased to offer a 2-day performance art workshop intensive. Participants will create new performance works on-site and have the opportunity to present their work to a public audience as part of a performance art showcase or through pop-up performances during the last day of the festival on Saturday, August 17th, 2019.
Guy Sioui Durand (in collaboration with Julie Fiala and Clayton Windatt) proposes to offer to the artistic community of North Bay two workshops initiating them to indigenous performance art (day one) and international performance art (day two). 
DESCRIPTION: Performance Art is a contemporary art expression that typically explores its subject through emotions, physical actions, and/or vocalizations. These ephemeral works of art are experienced live and may be participatory or collaborative, short self-contained pieces or longer durational pieces. Consideration of pace, impact and various potential interactions are employed by the artist to convey their messages and intentions, and can be used to heighten or demonstrate presence or absence, identity or relationships, confusion or clarity. This workshop intensive focuses on creating openness and reciprocated sharing between all involved, while allowing for the exploration of each artist's practice and performative interests and how interactions of body, space and object can be represented in a time and place. This workshop offers training in multi-arts performance through collaboration and evaluation with care. It will provide participants with necessary theoretical and practical knowledge to realize their artistic goals, and help to increase their self-awareness through constructive and supportive peer critique. Participants must come with concepts they wish to explore. It is advised to consider self, locality and personal history which may include bringing mementos, stories or prepared actions. 
PARTICIPANT CRITERIA: This workshop is open to emerging, new generation, and professional artists. This professional development workshop is an intensive exploration and demands a professional arts environment not suitable for those unfamiliar with contemporary arts. Applicants are welcome from any artistic background who have an interest in conceptually-based processes and contemporary arts expressions. We follow the process of critique through care. Participants are here to support each other, creating space intended to be safe and welcoming. 
SCHEDULE:
Day 1:

Actes Sauvages / Indian Acts 0 

This day will start with a contextual presentation and an initiation to Indigenous world-views and the important principles of indigenous performance art. Following this, opportunities will be given for practical experimentation around four themes (or four directions):  1 – 

The importance of the circle (in connection with rhythm, sound and embodied action); 2 – 

Storytelling (the fusion between traditional and contemporary practices); 3 – 

Warriors (politically-engaged and community-based practices); 4 – 

Two Spirits (shamanism, healing, and gender identities). 

This day will end with a collective performance, where, all together, we will creative a giant, human dream-catcher.  
Day 2: Group improvisations building collective actions, interactions and detractions explore form, function and intention. Building on explorations from the day before how can collective actions take place between peoples for joint initiatives? Exploring Co-creativity and relational aesthetics; Risk, courage, and engagement; Equilibrium and balance of mind and body & Time. This second day will culminate with a site-specific performance involving all of the workshop artists performing simultaneously and creating interrelationships for 60 minutes. This collective performance will provide an opportunity for artists to freely explore the four themes.  

Day 3: Individual and collective performances with schedule being set during workshop. Actions take place after a period of preparation culminating in formal public presentations at the ON THE EDGE Fringe Festival.

 
BIOGRAPHIES & FACILITATORS: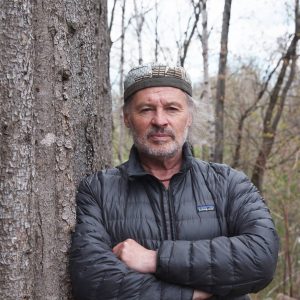 Guy Sioui Durand
Tsie8ei
8nho8en
Wendat (Huron), Guy Sioui Durand is a sociologist (PhD), theorist, independent curator, and art critic.  His research focuses on indigenous and contemporary arts. On the one hand, His research centres on indigenous and contemporary arts. On the one hand, he emphasizes the decolonization of the spirit through reclaiming "savage" identities ("ré-ensauvagement") and the renewal of relations. On the other hand, he believes that we can change the world through art action, and art action through indigenous live art, so that the spectacular comes to oppose the spectacle. As a public speaker and performer he express First Nations orality. His book L'art comme alternative. Réseaux et pratiques d'art parallèle au Québec (1997) is a key reference in the field. He has also contributed to three issues on the evolution of Indigenous art Amérindie (2002) Indiens,Indians, Indios (2010) and  Affirmation Autochtone (2016). In 2018-2019, he was involved as a curator for Toronto'.Trialogue (Le Labo,Toronto), RIAPA  (Rassemblement Internations d'Art Performance Autochtone) in Wendake, the exhibition De Tabac et de Foin d'odeur. Là où sont nos rêves at the Musée d'art de Joliette and for La Tente parlante (Manif d'art 9, Quebec City). Sioui Durand recently performancrs are Perdre le Nord: Winter is Coming. L'hiver vient (Nuit Blanche Festival at La Guilde, Montreal) and Entre chair et corps : passages à l'événement La bi-spiritualité chez les Autochtones (CIAC and Présence Autochtone, Montreal).   Sioui Durand teaches a unique course on indigenous art at Kiuna, an indigenous post-secondary institution.
Wendat (Huron), Guy Sioui Durand est un sociologue (PH.D.) et critique d'art, commissaire indépendant et conférencier-performeur. Il porte son regard sur l'art autochtone et l'art actuel. D'un côté, il met l'accent sur la décolonisation des esprits par le ré-ensauvagement de nos imaginaires et le renouvellement des relations. De l'autre, il se dit qu'il faut changer le monde par l'art action, et l'art action par l'art autochtone vivant pour peu que le spectaculaire s'oppose au spectacle. Enseignant l'initiation à l'art autochtone aux l'institutions Kiuna et l'Uqam, Guy Sioui est l'auteur des ouvrages l'Art comme alternative (1997), de Riopelle. Indianité (2002), de l'Esprit des objets (2013) et de nombreux articles dont Décolonisation de l'art par l'art autochtone (Liberté, 2018). En 2018-2019, il a été commissaire de la résidence de création Toronto'. Trialogue au Labo à Toronto, du Rassemblement Internations d'Art Performance Autochtone (RIAPA) à Wendake, de l'exposition De Tabac et de Foin d'odeur. Là où sont nos rêves au Musée d'art de Joliette et de l'événement in situ La Tente parlante dans le cadre de la Manif d'art 9 à Québec. On compte parmi ses harangues performées Perdre le Nord: Winter is Coming. L'hiver vient, Festival Nuit Blanche à La Guilde et Entre chair et corps : passages à l'événement La bi-spiritualité chez les Autochtones du CIAC et Présence Autochtone. Ajoutons-y le Bingo Littéraire Kwahiatonhk en tournée.  www.siouidurand.org.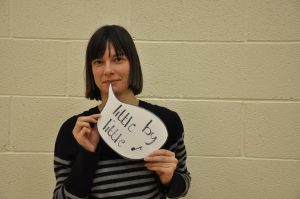 Julie Fiala is an artist and researcher interested in socially-engaged arts, who has lived in Britain, Ireland, Quebec, Alberta, and Ontario. Now based in Ottawa, she has presented her work internationally in cities including New York, Belfast, London, Quebec City, Grande Prairie, Ottawa, Kaliningrad, Leeds, and Delhi. She obtained her BFA and PhD from Queen's University in Kingston, Canada. Granted at the University of Leeds, UK, her MFA was supported by a prestigious Commonwealth Scholarship. Translating politics into poetics, she uses performance art, artistic interventions and forms of community engagement to develop creative opportunities for being with others. For example, during an afternoon in May 2005, she co-organised a large-scale dialogue about public safety involving 400+ people conversing on thirty red couches in Hyde Park in Leeds, UK. In 2010-11, she was a visiting scholar at Trinity College Dublin in Belfast, UK, where she experimented with performance art for community-building in post-conflict Northern Ireland. In 2018, she curated the international, performance art, touring project entitled Reliances in India, where Canadian and Indian artists presented performances and workshops within rural and urban locations in Morni Hills, Chandigarh, Jaipur, Imphal, and Delhi. Fiala self-identifies as Franco-Ontarian with Métis sisters from Alberta and Inuit cousins in Pasley Bay. Her great uncle Frenchy Chartrand "discovered" the North West Passage during a lengthy expedition in the early 1940s on the ship called the St. Roch, and died in the arctic after creating a family.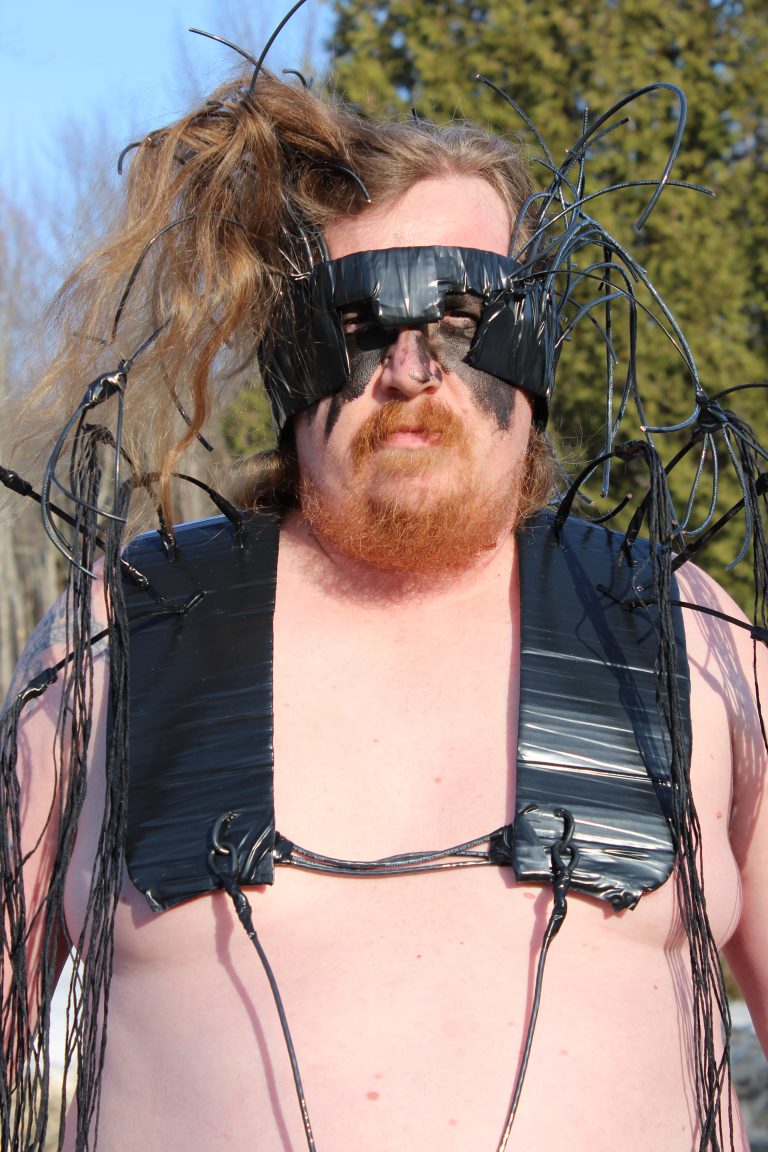 Clayton Windatt is a Métis non–binary multi-artist living and working between Sturgeon Falls and Toronto, Ontario. Clayton holds a BA in Fine Art from Nipissing University and received Graphic Design certification from Canadore College. With an extensive history working in Artist-Run Culture and Community Arts, and through their own activism, Clayton works towards healthier relationships for national and global Indigenous artists and communities. The former Executive Director of the Aboriginal Curatorial Collective, Clayton maintains contracts with several colleges and universities, arts magazines, arts councils, arts organizations, and other organizations as a critical writer, columnist and consultant in addition to pursuing their independent arts practice. Clayton is an active filmmaker and director with works featured in festivals such as ImagineNative and the Toronto International Film Festival and recent commissions by the National Film Board of Canada. Clayton works in/with community, design, communications, curation, performance, theatre, technology, and consulting, and is a very active writer, filmmaker and visual-media artist and was recently appointed to the National Gallery of Canada's Board of Trustees. www.claytonwindatt.co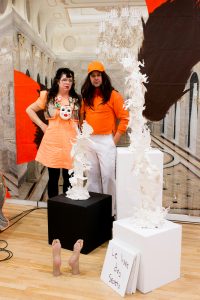 Born in 1974, Geneviève Crépeau graduated from Université du Québec à Montréal in 1997 with a degree in visual arts. Matthieu Dumont, born in 1977, graduated from Université du Québec en Abitibi-Témiscamingue in 2000 with an interdisciplinary degree in visual creation. The Geneviève et Matthieu duo from Rouyn -Noranda in Abitibi-Témiscamingue, was born in the late 1990s. Their work is a meeting between art, performance, music and everyday life. Playing on interdisciplinarity, from happening to musical composition and performance to installation, this collective creates staged social living tableau sometimes festive and always human.  Since 2001, their discography includes five titles. Their works, which oscillate between baroque, abstract expressionism and arte povera, have been exhibited on more than forty occasions in Quebec, across Canada, in the United States, in France and in Belgium. Actively involved in their community, Geneviève et Matthieu also head the direction of the L'Écart artist run center and have been running the Rouyn-Noranda Performance Art Biennale since 2004.
Special Thanks
This workshop is presented in partnership with Zakide Artist-Run (www.zakide.com) and the ON THE EDGE Fringe Festival (www.fringenorth.com) as part of the Duality-Firestarter Arts Incubator. We would like to acknowledge the support of the Ontario Arts Council and the Canada Council for the Arts as well as the government of Ontario and the government of Canada.