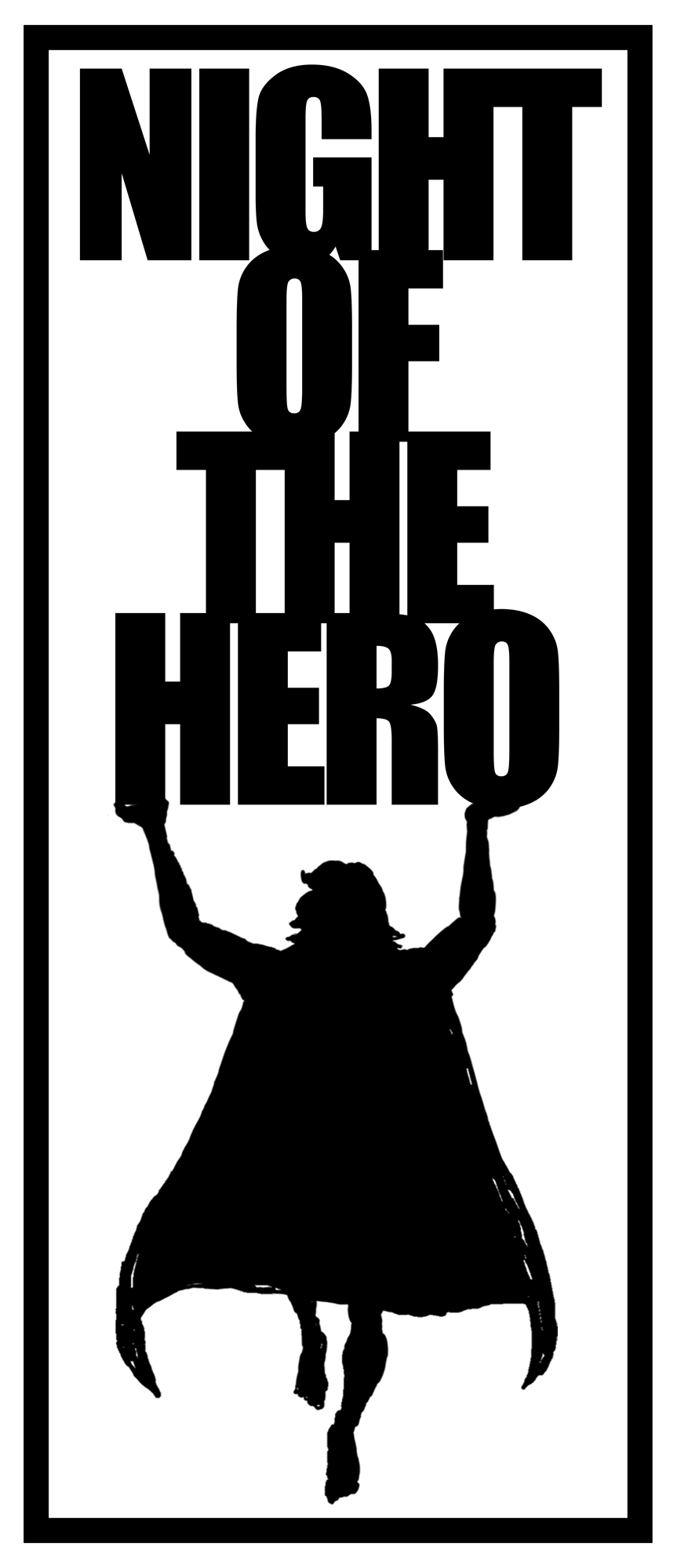 UPDATED – We are currently exploring options for the 2020 festival to move forward in a digital capacity.
Your patience is greatly appreciated.
CALL FOR PLAYWRIGHTS and PERFORMANCE PIECES
Event: December 10th, 2021 (International Human Rights Day)
https://www.un.org/en/observances/human-rights-day
Deadline for submissions: October 15th, 2021 at midnight EST.
Location: Raven & Republic – 246 1st Ave W, North Bay, ON P1B 3C1
Night of the Hero (NOTH) is a one-night artistic exploration of works created in response to the idea of heroism both fantasy-based and in everyday life. This event profiles plays, playwrights and performance pieces that delve into the concepts of greatness, heroic acts, super heroes, vigilantes and actions that make the world a better place. NOTH is seeking new original works in an effort to foster creativity and profile professional artists. Our goal is to create an atmosphere of community and support between individuals while focusing on exceptional and unconventional hero stories. 
CALL FOR SUBMISSIONS: NOTH is seeking submissions of plays and performance pieces for our first annual cabaret showcase in celebration of International Human Rights Day. We are seeking original works read by or presented by the artist/playwright as well as submissions by playwrights that would prefer to have an actor perform their work. Our ideal submissions are those best presented outside of a formal theatre setting. In particular, we are most interested in readings by playwrights and presentations that are active, employ humour, wit and heart. Works that are caring, daring and provoke thought. We prioritize unique approaches to telling stories and welcome presentations by members of many marginalized communities. Any style of presentation is acceptable as long as the piece is under 20 minutes in length and fits the above criteria. Costumes are always encouraged. 🙂
Submissions: NOTH is committed to providing equitable spaces that remove long-standing systemic barriers. As a result we are actively encouraging applications from Black, Indigenous and People of Colour communities as well as LGBTQ+ folk and those identifying with disabilities. If you are reading this and have a superhero story to tell, we want to hear from you. To submit, please send us the following:
details of the piece's production history (e.g. an excerpt or a stand-alone work)

a two or three line synopsis of the piece that outlines the context and/or character

a short artist biography (maximum 250 words)

a copy of the script or detailed description of non-text based works

(optional) a video of the performance or reading of the work
Selection Criteria: Zakide is in partnership with NOTH for the purposes of supporting Zakide members and dissemination. NOTH is run by an ad-hoc collective with the sole purpose of organizing this event. This committee will review all submissions and select as many as can be programmed into the event based on the criteria above. For submissions, correspondence or inquiries, please contact collective member Clayton Windatt who can be reached at nightofthehero@gmail.com.
Artist Fees: Selected works will be offered a guaranteed engagement fee of $250.00 CAD (including HST). Performances will either be conducted by the artist directly or through a selected group of professional ensemble actors that night. A separate call for ensemble actors will be circulated following current CAEA rates once works have been selected.
Working through safer spaces: NOTH is dedicated to creating a space free of harassment and censorship. This means that each work produced is invited to offer trigger warnings for any content that may be considered disturbing or offensive to the audience. We welcome individuals coming from many places and offer a way to come together to communicate regarding their experiences. We aspire towards a safer space accountable environment while remaining open to constantly redefining our processes and methodologies in the hopes to accommodate those we have not yet met. For us, those presenting are leading the room and given the microphone to present on their own terms. If performances are triggering, we invite the audience to ensure they are maintaining care and are free to enter or exit the performance space as needed. If audience members are challenged by performances, we invite dialogue and discourse between performances during intermissions. We do not tolerate violence, harassment, or hate speech, but welcome ways of exploring subjects in productive ways with everyone's well being at heart.